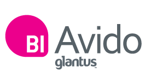 Avido BI
Admire User Guide
Version 2017.10.1

---
Document Information



Copyright



Avido® is a brand name of the Glantus Group. Glantus is a registered trademark of Glantus Group Limited.

Other product and company names mentioned herein may be the trademarks of their respective owners. The Glantus Group is the owner or licensee of all intellectual property rights in this document, which are protected by copyright laws around the world. All such rights are reserved.

The information contained in this document represents the current view of Glantus on the issues discussed as of the date of publication. This document is for informational purposes only. The Glantus Group makes no representation, guarantee or warranty, expressed or implied, that the content of this document is accurate, complete or up to date.

Disclaimer



This guide is designed to help you to use the Avido applications effectively and efficiently. All data shown in graphical form are provided as examples and are for guidance only. Any data used in illustrations fictitious and bear no association to any company or organisation that may exist.

Version History





Customer Support



For more information regarding our products, please contact us at http://glantus.com/

---
Document Overview



This document is essentially a manual that outlines the how to use the Avido Admire application.

Home Bar



Provides the option for loading a dashboard, refreshing the dashboard file store, and making Avido Admire full screen.

Accessible Dashboards



Shows dashboards accessible to the user currently logged into Avido Admire. To open a dashboard, select the dashboard then select open found in the home bar OR double click the dashboard.

Dashboard View



Displays the selected dashboard.

Open



Opens a dashboard.

Reload



Reload Admire to display newly added dashboards.

Full Screen



Makes Admire full screen.

LOGGING INTO AVIDO



Open Avido Admire



Once Avido Admire has opened, you will be welcomed with the below screen:




Enter your unique username and password, then select 'Log In'




OPENING A DASHBOARD



Open Avido Admire and Log in




On the left you will see a column displaying dashboards you currently have access to.




Double click the dashboard you desire to open



On the right your dashboard will display. If it is interactive, you may click points within the dashboard to maneuver between the different filters applied to the data.




EXPORTING A DASHBOARD



Open Avido Admire, log in, and open a dashboard




The export button is located on the top right-hand corner of the dashboard items. (You can choose to export individual items or multiple items if they are grouped).




Click the export button and select the file type you wish to export your dashboard to




Fill out the options you desire for the export, then select 'Export'




Choose the name and location of the file and select 'Save'